October 16-17 Radically Loved Conference
Friday, October 16, 2020 from 7:00 PM to 6:30 PM
Event Information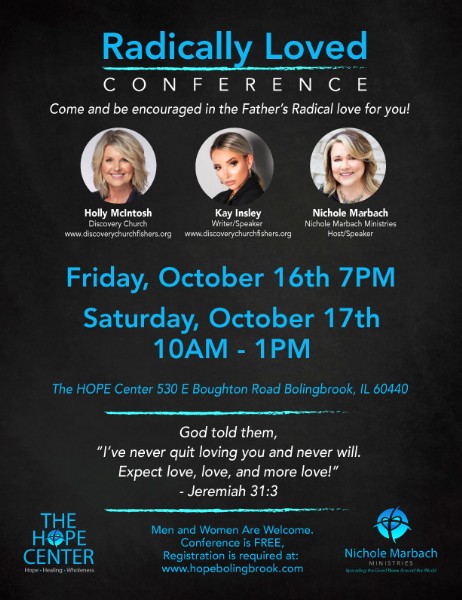 October 16th & 17th
So excited to have , Holly Sandra McCollom, Holly McIntosh, Gail Hartlett and myself ministering God's Radical Love & Grace at this conference at The Hope Center in Bolingbrook, Illinois.
Friday, October 16 - 7PM
Saturday, October 17 - 10AM - 5PM
Men and Women Welcome.
No childcare provided.
About Our Speakers
Nichole Marbach
Nichole's passion in life is to share the good news of God's amazing love and grace. Whether it is through speaking, writing, or her conferences, her mission is to see people truly experience God's heart of extreme love. She believes that when people truly know the Father's love, the finished work of Christ, and their true identity as children of God, they are able to walk in healing, freedom, joy, and peace.

Sandra McCollom
Sandra McCollom is the co-founder, with her husband Steve, of Freedom Living Ministries. She's a speaker and author of I Tried Until I Almost Died – From Anxiety & Frustration to Rest & Relaxation. For the first 34 years of her life, as a Christian, she lived in almost constant stress. Running on her "treadmill of accomplishment" and desperately trying to live the Christian life by her own efforts left her feeling anxious, frustrated and exhausted. At the end of 2011 Sandra told God she just couldn't live the Christian life any longer and admitted she needed serious help. God responded by giving her a deep revelation of His love for her. It's been 7 years and Sandra's life is totally transformed! One of her favorite ways to help others learn how to live the grace life is through her blog at www.sandramccollom.com
Holly McIntosh
Holly and her husband Steve are founding pastors of Discovery Church in Fishers, Indiana. She is a graduate of Charis Bible College and graduated with a Bachelor of Science degree in Elementary Education from Indiana State. Along with serving as co-pastor, with her husband, Holly is Director of Charis Bible College, Indianapolis. Holly has been in ministry for over 30 years and is a gifted communicator speaking at conferences, retreats, and church settings. Holly's focus is sharing the message of God's total life prosperity and transformation and the good news of God's grace, unconditional love, and power! www.discoverchurchfishers.org
Gail Hartlett
She started Charis Indiana in November of 2006. Relationship with God is the first and most important thing in her life. She says; "All life and ministry flows out of that relationship!" Gail was healed of cancer & loves to see people walking in divine health.
Event Location
The HOPE Center • 530 E. Boughton Road • Bolingbrook, IL 60440 • US